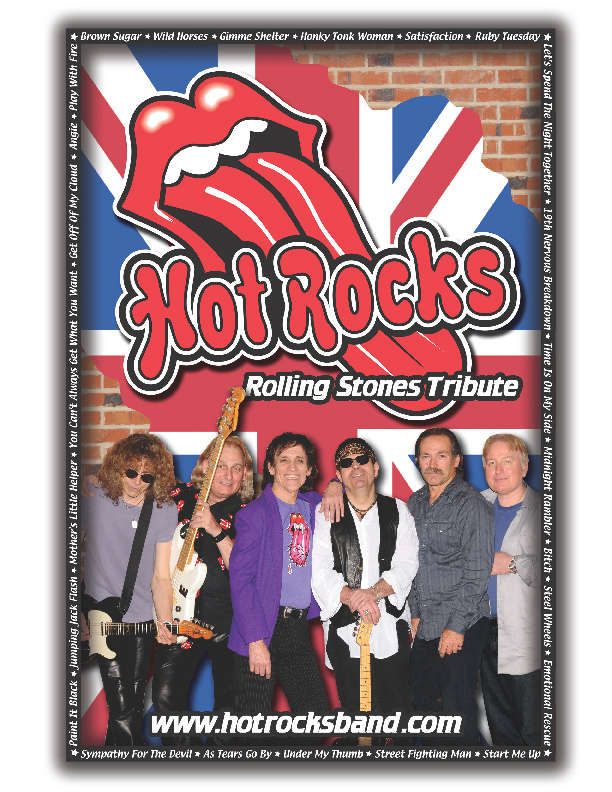 *'This is as good as it gets with any Stones Tribute Band - these guys are the very best.' .. James Phelge, author and former Stones roommate.
*'The Ultimate Rolling Stones Tribute Show!' .. OTW Rockford
*'Best in the Midwest' as selected by
Paramount Pictures, The Rolling Stones & Martin Scorsese-!
*Best of the Burbs finalist 8th year in a row
voted by readers of Suburbanites Magazine.
Voted in 'Top 5 Best' by readers of Chicago Rocker
*Very professional and entertaining ...' Trump Hotel-Chicago


*If you like the Rolling Stones, you'll love the sound, look, costumes, and energy Chicago's very own Hot Rocks will bring to you. This famous Rolling Stones Tribute show will have you shouting the words to "Jumping Jack Flash," clapping along to "Brown Sugar," and you'll get what you want and need!
It's always a rockin' party with Hot Rocks!



~~~~~~~~~


contact the venue for details




-entry fees-parking-

reserve a table
- dress code, yes, some may have a dress code


____

2018 Tour - Next Shows:

___


Thank YOU for your continued support.




Hot Rocks videos - A Weekend With Bobby Keys


http://youtu.be/cxLiY7wK5fM


http://youtu.be/ds7BRPOoLhQ

Best wishes for a wonderful 2018!


Thurs Sept 27, 2018 - 5pm-8pm Fall Food Truck Fest
Hanover Township 2nd Annual at Senior Center
240 S. IL Rt 59, Bartlett, IL 60103
Ph: 1-630-483-5600

http://www.hanover-township.org/Home/Components/Calendar/Event/10105/112

All ages event - Food - Carnival Games
- Climbing Wall - Hot Rocks Band

Fri. Sept. 28, 2018 - 6:45pm-9pm
Roselle Car Show
The American Legion Hall
344 W. Maple, Roselle, IL


http://www.cruiseroselle.com/


All Ages Outdoor Event

Note: 9/28/18 is Chris Minardi's last show with Hot Rocks.
After 22 yrs with Hot Rocks, he's decided to try different things.
We will miss our 'Keith' and wish him well in his next adventures!

Hot Rocks Band - The Odyssey Tour Continues!

Fri. Oct. 12th TBA


Sat. Oct. 27, 2018 - 9pm-1am
Galati's Hideway
Italian Restaurant & Bar
800 Feinberg Court, Cary, IL 60013
Ph: 1-847-516-3663
http://www.galatishideaway.com

https://binged.it/2Qix2L4

Sat. Nov. 3rd - Private Event

Sat. Dec. 1st - Private Event

Contact Hot Rocks for your next event, party, wedding, corporate event, fest, benefit, theater, casino, club ...

-

Full Schedule

-